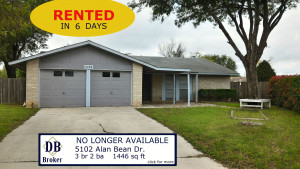 Here is a picture of the latest property to rent through DB Broker, LLC. It rented in 6 days. Why is that? Let me go over some of the things that I feel make your property rent quickly and then I'll tell you the real secret.
If you want your property to rent fast it has to look good. If you wouldn't live there, why would a tenant? Not great, not new, but good to your average normal person. A big part of that is cleanliness. Show it clean and ready to move into.
If you want your property to rent fast, price it correctly. If a tenant can rent a similar house in the same neighborhood for $100 less, why would they rent your home? They won't as long as there are alternatives. Use market rent to price your property.
If you want your property to rent fast it has to be marketed correctly. You could have your property added to the MLS and a sign stuck in the yard and stop there. It would rent. But, why stop there when there are so many avenues to market your property? The internet and social media are becoming more influential all the time. The tenant for this property is another that did not come from an outside realtor. (click here to see another article on using internet marketing)
Now here is the secret that rents a property fast. You can do all the above and get no results if the leads generated by marketing your home are not followed up on. If you want your property rented, you must go with a property management company that has the ability to respond to the leads that come in, and show the property when the applicants are available to see it. DB Broker, LLC is responsive. If you want your property to rent fast, call us today. You're losing money everyday your property is vacant.
For the most effective vacancy marketing of your rental property call DB Broker, LLC today. 210-880-4378
Serving San Antonio and surrounding areas.
www.dbbroker.com
DB Broker, LLC
Fourwinds Dr. #251
Windcrest TX 78239